Everybody know that you can have an account in wikia, there are some cases that causes your account to be accessed by other people. He/She could do something that breaks this wiki policy. In any of those cases, such as accessing your account, the wiki is not responsible for that, and you will face the blocks and consequences the wiki will do against you (your account).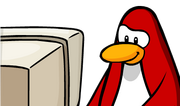 To get away from the consequences...
[
edit
|
edit source
]
Another user proves that they were on your account.
Some meaningless excuses...
[
edit
|
edit source
]
But wait! I was not at my computer when it happened! plz unblock!!! NOO! - We don't know that for sure.
Chances of not getting a block...
[
edit
|
edit source
]
Is when the majority of the admins decided not to block that user.
To keep your account safe...
[
edit
|
edit source
]
Have numbers and letters in your password.
Make your password long.
Do not make your username your password.
Do not ever give away your password, not even to an administrator.
Change your password every few weeks.
Make sure your password is too hard for someone to guess, but easy for you to remember.
Do not make your password have to do about something everyone knows about you.
What happens if I follow the tips?
[
edit
|
edit source
]
Your account should be Secure. 20px
Community content is available under
CC-BY-SA
unless otherwise noted.