After a user is blocked, he/she may want be unblocked. Only minor offenses will be submitted for early unblocking, and admins must discuss this before proceeding to change the block.
You cannot be unblocked early if you...
Edit
Were blocked for 1 week or less
Were blocked indefinitely
Have less than 25% of your block remaining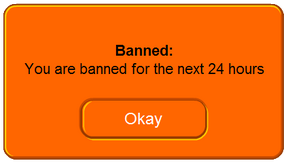 Have had a long block history, either for multiple reasons or for the same reason
Have caused major trouble/drama in the wiki, resulting in this block
Have been blocked at least once in the past month
Have been blocked for the following reasons:
You will be unblocked early if...
Edit
A majority of the admins agree on it
A note for Admins and Bureaucrats
Edit
When unblocking someone per this policy, be sure to include "Early Unblock" in the unblock summary to make things easier in the future, as each person is only allowed two early unblocks.
If you persistantly beg to be unblocked early...
Edit
You will not be unblocked early, and your block will be extended
Community content is available under
CC-BY-SA
unless otherwise noted.